Translation Team- Paspartu employs a global network of over 550 native translators, IT and Subject Matter Experts, dedicated Project and Account Managers from over 40 countries.
Our translation professionals work closely with our customers to identify their requirements. All our linguists have advanced degrees and work experience in the same technical disciplines as our clients' business operations. The translation team includes technical translators, subject matter experts, terminology experts, specialized engineers, and desktop publishing professionals.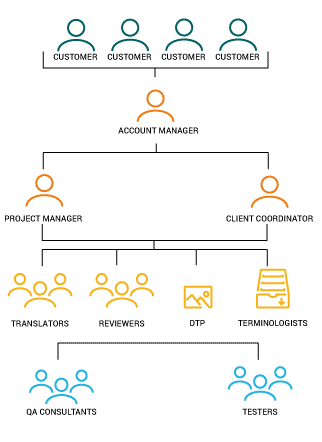 Account Manager: The Account Manager functions as a liaison between the clients and the company's team of professionals, ensuring that every commitment is met.

Project Manager: Our project managers posses meticulous organizational skills and strong attention to deadlines. They are experts in implementing project management processes, organizing translation resources, working under tight deadlines and controlling translation and localization project changes to generate maximum team performance. Each Project Manager is allocated based on his/her industry knowledge and expertise. The Project Manager is responsible for daily project production, progress reports, financial management, language quality as well as the preparation of the localization kit and other translation guidelines.

Translation Team: team members (translators, terminologists, proofreaders, Subject Matter Experts editors, QA reviewers) are selected based on their studies, background and relevant, field-related experience. Terminologists have a degree in the client's field and their role is to check terminology in all project documents and files.

IT Support Team: The IT team is responsible for the daily management of the infrastructure that supports the translation production process.